Gisburne Park estate, Abigail and Tom
*voicemail* "Hi David, sorry to bother you so late, but I had to call you up and say how amazing they are, they're ABSOLUTELY INCREDIBLE, it's like the best thing I've ever seen in my life, it's so great - thank you so so much!"
Gisburn Park estate wedding photography
What an incredible day Abigail & Tom's wedding was. It's a massively over used word, but it was epic in the true sense. This was my first time at this vast and utterly stunning wedding venue, and only the second ever wedding here (Missed out on first place by a week damn it!) but you would never be able to tell as Guy and his amazing team ran the day perfectly - like they'd been doing it for years.
Bridal prep
I started the day with Abigail at her family home. There was a really relaxed vibe with loads of laughing - I just knew it was going to be a brilliant day. I always love this time of day as I can work quietly and creatively, and there were so many great moments to capture from hand touches and gestures to full on mouth wide open moments when Abigail first saw her mum in her outfit, to when the bridesmaids first saw Abigail in her stunning dress .
Church service
Abigail and Tom got married just around the corner from her family home. It was a lovely church and bathed in amazing sunlight. Once inside it was more laughing and beaming smiles - honestly these guys made my job easy. When it was time to exchange the rings, the family dog ran down the aisle and completely stole the show!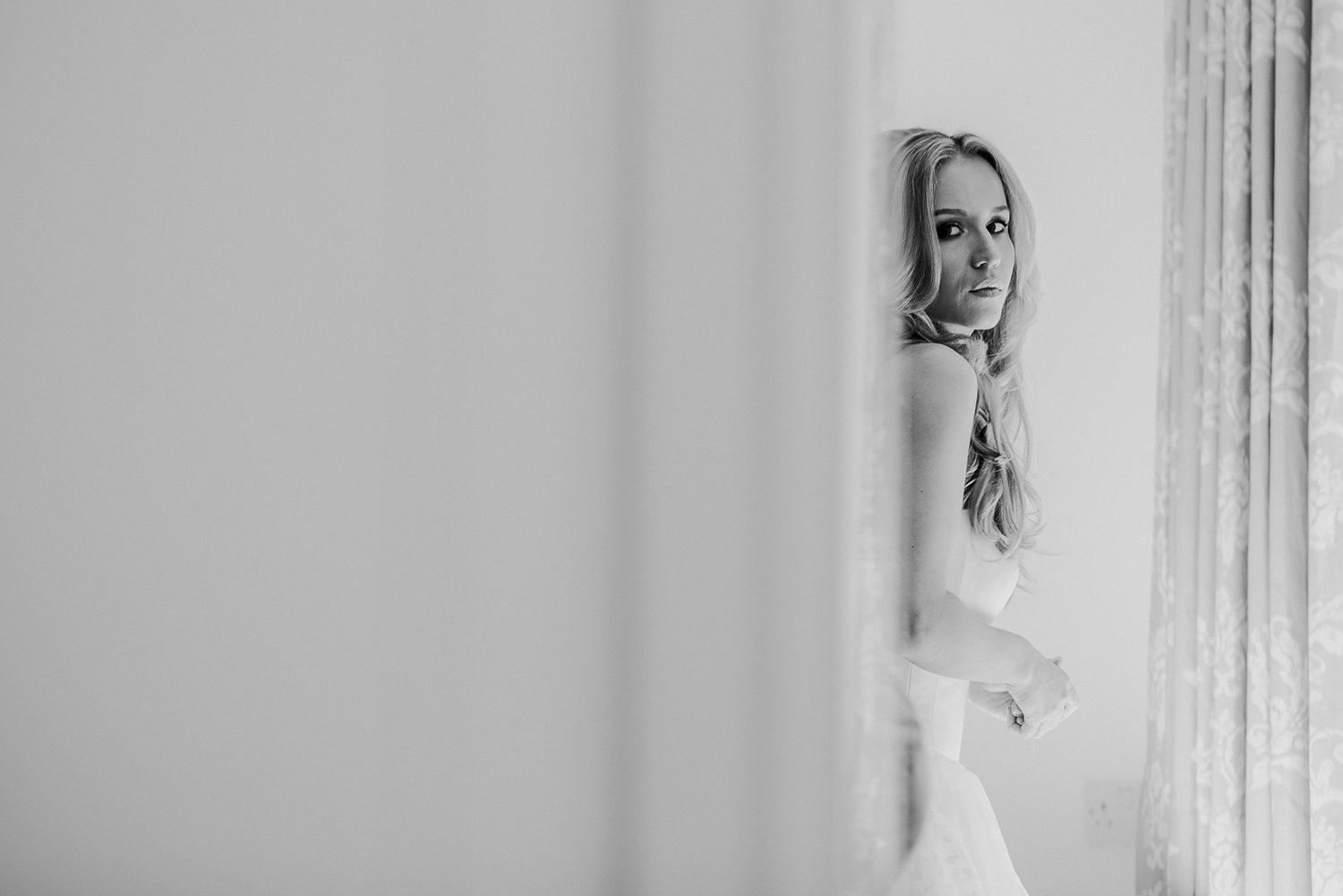 Summer Marquee drinks reception
After a mega long confetti line, we arrived at Gisburne Park and took a short stroll through some of the grounds before the other guests arrived. On your wedding day I want you to spend as much time as possible with your family and friends so this worked out perfectly. From the car park area all the guests get on golf buggies to be taken into the valley (yes a venue with it's own valley!) where the marquee was placed between the beautiful house that they get exclusively for a week and the river Ribble. Joining the two is a picturesque stream running alongside. Along with the summer light and free flowing drinks you couldn't wish for a better setting to get stuck in and capture the atmosphere, which is how I approach 90% of the day.
The Party!
I knew from the start of the day this was going to be one hell of a party, but even I was surprised. After hilarious speeches in the marquee that had been beautifully decked out by the genius of Red floral architecture this lot were off and didn't stop until I imagine well after I left - which was pretty late! So how do you top off a day like that? With a massive firework display from the top of the valley obviously!
This is Reportage story award
I was so lucky to have got a story award from 'ThisisReportage' from this incredible wedding. I have 2 TIR story awards and they are the ones I am most proud of. Apart from being really difficult to win (apparently only 4% of submissions win worldwide!) they are judged on 20 images from the day rather than one 'hero' shot so they show couples that I put my all into capturing the whole day to a creative high standard and not just the couple shots.
Gisburn Park recommended supplier
Since Abigail & Tom's big day I have been officially asked by the venue to be one of their recommended suppliers. I was immensely proud and obviously said yes! So, if you are looking to get married in some of the most stunning scenery the north west has to offer, you should definitely check this place out, and if you do, then I'd love to hear from you!
Suppliers
Make up - Olivia Naylor
Hair - Laura Darlington
Flowers - Red Floral Architecture
Video - James Wray
Cake - Lindsey french at The cake company
DJ - Ryan at DFC Lancashire