Natalie & Lee. New House farm, Lake District.
"Wow!! What can I say, our wedding photos are absolutely stunning!! You've literally captured ever second of the day beautifully.

Thank you so much, we love them!"
2017 was the best year yet for me as a wedding photographer and Natalie and Lee's wedding was right up there with the best of the best. I was really excited when they got in touch, they are such a cool and lovely couple and when they told me where they were planning to get married - at the amazing New house farm, next to the jaw dropping Crummock water in the lakes I was double excited. But, It's all about the people, and did they ever have a lot of great people at their wedding. What a laugh. They just made wedding photography easy!
Bride & Groom preparation.
I started the day with Natalie and the girls getting ready at Woodhall in Bridekirk. Oh my. Is this ever a stunning house for bridal prep. Almost overwhelming it's so good. A beautifully decorated old house with incredibe ( I say that a lot but I mean it!) light and amazing views out over the Lake district. The first shot of Natalie even bagged me a 'Masters of wedding photography' award, and a 'Photographers keeping it real' award. Not bad for a 'make up shot'.
A short drive down the road Lee and the groomsmen were getting ready at The Lazy fish, Brookhouse. I mean, do these two know how to find great venue's or what? Another beautiful mezzanine house that was perfect to get natural photographs of the guys getting ready. They were in full swing when I got there so I just left them to it.
Back at Woodhall and the nerves that had recently kicked in were being helped with a quick shot of Jack Daniels. It seems they are great at picking bridesmaids too! Natalie looked amazing, and her dad was a little overcome with emotion when he saw her. I got a quick capture then left them alone and made my way to the main event.
New House Farm wedding photography.
This was my first time at New house farm. The wedding venue is a luxury guest house situated in the stunning Lorton valley. It was the perfect choice for a romantic winter wedding, surrounded by the Lakeland Fells and festoon lights, and kept cosy and warm with candles and fairy lights illuminating the original stone barn inside.
The wedding reception was relaxed and fun, and after some hugs and high five's we took a quick drive to lake Crummock for a bit of alone time. Does the English countryside get any better than the lake district?
Speeches and evening party time with RTP Films and Whitney Houston
It's always a huge pleasure working with Roland and Lisa from RTP Films. I did quite a few weddings with them last year and we've become good friends...but that aside they are top of their game! After some fantastic, emotional speeches they had been asked if they could film a 'marry-oke'(kareoke at a wedding). This became one of the highlights of they day and turned into a full blown wedding 'sing off' down in the lower bar area of the venue to the tune of Whitney's 'million dollar bill'. Amazing.
This spilled right onto the dance floor and was the soundtrack to many shapes getting pulled. What a party. What a wedding. A huge congratulations to Nat & Lee, and a massive thanks for having me there!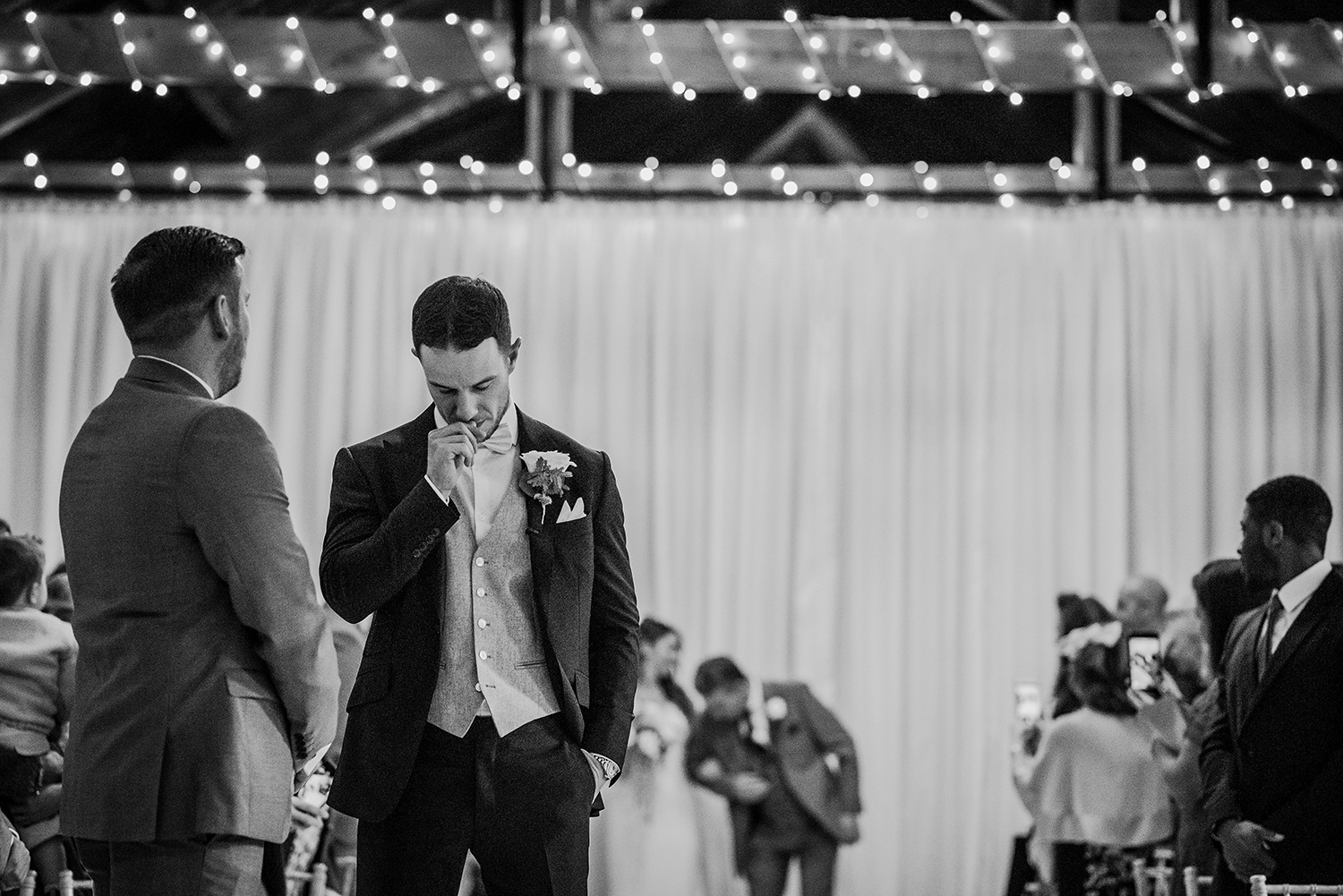 Suppiers
Videographer: RTP Films
Florist & Cake: Annette - Lake District Florist and Cakery
Hair Stylist: Danielle Williams
Makeup Artist: Julia Jeckell
DJ: Paul Michael